Key Benefits of Metal Pall Ring
Metal pall ring is made of material like carbon steel, stainless steel or Aluminum alloy, etc. The metal pall ring is one of MTE's metal random packing products. For over fifty years, random packings are effectively used to improve a tower's performance. Stainless steel pall rings are the most popular and widely used type because of the best corrosion resistance and chemical stability performance.
Metal pall ring is especially suitable for rectification towers under vacuum to treat thermo sensitive, decomposable, polymerizable or cokable systems, so it is widely used in packing towers in petrochemical industry, chemical fertilizer industry and environmental protection, etc. If you need more information, please contact us.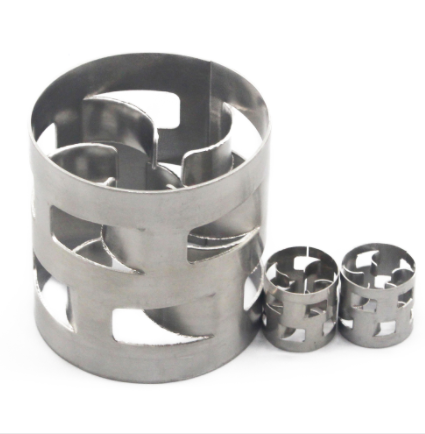 Key Benefits of Metal Pall Ring
Metal pall rings packing is popular because the ring's metal material and design offer benefits that can improve your operation in several ways. Metal pall rings improve on the Raschig ring design to deliver several benefits, including:
1.Higher loading capacity and throughput with minimal pressure drop
2.Easily wettable compared to its plastic counterpart
3.Higher mass transfer efficiency and better liquid/gas distribution
4.Excellent overall versatility, with good resistance to fouling
5.Excellent mechanical strength, for longer life and improved reliability
6.Suitable for high-temperature applications
7.Mechanically robust
Use our stainless steel pall rings in high temperatures, as well as acidic, alkali, high salt and other harsh environments. Ceramic and plastic varieties are available, as well — explore our website for details.
Applications of Metal Pall Ring

Metal pall rings' versatility means they are ideal for many industrial processes — especially those that need both a high capacity and a low-pressure drop under vacuum. Some processes they can help with include H2S, NH3 and SO2 absorption, direct contact cooling and steam stripping. They are not typically used for liquid redistribution. Other metal pall ring applications might include decarbonization, degassing and heat recovery.
You'll find our metal pall rings in reaction towers, distillation columns and quench towers, as well as other vessels. Metal pall rings packing is used in various industries, and MACH Engineering can cater to industries like pharmaceuticals, chemical and food processing, water and wastewater, refineries and petrochemical.
Specification of Metal Pall Ring
Sizes
(mm)

Bulk density
(kg/m3)

Number
(per m3)

Surface area
(m2/m3)

Free volume
(%)

16*16*0.3

360

201000

346

95.5

25*25*0.4

302

51000

212

96.2

25*25*0.5

400

51000

216

95

25*25*0.6

470

51000

219

94.2

38*38*0.4

218

15000

143

97.2

38*38*0.5

262

15180

145

96.7

38*38*0.6

328

15000

146

95.9

50*50*0.5

194

6500

106

97.5

50*50*0.7

285

6500

108

96.4

50*50*0.9

365

6500

109

95.4

76*76*0.8

205

1830

69

97.4

90*90*1.0

229

1160

62

97.1
Material available: carbon steel, stainless steel including 304, 304L, 410, 316, 316L.
Normal Package: Plastic bag, Jumbo bag, Wooden box.